We have grabbed the shorts and pulled them up and here they are: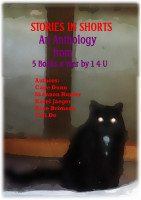 What's in there?
Stories Written by:
Cage Dunn
Shannon Hunter
Karel Jaeger
Rose Brimson
Cisi De
Cat's Eye                                        The Old Man and His Desert
The Truth About RumpledStiltedSkin: A Very Ugly Old Man
To Tell it How it Really Is               The Garden of Souls
Shrine                                               A Quiet Night
Practical Issues                                The Storm
A Thought                                        Was it a Light?
Gone                                                 Someday, or The Day After
Maneki Niko                                    Survive
Cat Whisperer                                  Burglar!
Baban                                               Tones of Dawn
Min-Min
---
Enjoy!!